Blackhorse Lane Ateliers – Case Study
About
Blackhorse Lane Ateliers make and sell ready-to-wear selvedge and organic raw denim jeans from their atelier in London, Walthamstow with a focus on sustainability, community, and unmatched quality. Blackhorse Lane Ateliers opened its doors in April 2016, leveraging their founders Bilgehan "Han" Ates' 25 years of experience in the textile industry. Blackhorse Lane Ateliers ready-to-wear collections are sold through their own retail and selected wholesale accounts.
Owners Hans and Ingrid have transformed the business and location into a multifaceted production workshop, restaurant, and community space. With the support from the Productive Valley Fund (PVF) and the Business of Fashion, Textiles & Technology's (BFTT), they are continuing to build upon their success by setting up their first state-of-the-art denim washing facility in the UK, expand their business by developing sustainable laundering / finishing techniques and enable the emergence of a new "London" wash aesthetic.  The wash lab will be available for commercial use by large and small brands as well as to partners in education.
Blackhorse Lane Ateliers are renowned for their premium quality construction and ethical business model. They have developed a unique manufacturing 'hand' which is rooted in the company's heritage in London tailoring and have developed a new standard for denim-making across the UK.
How did you come across the Productive Value Fund?
Ingrid: "We saw flyers through Waltham Forest council – informing businesses about the loan and got in touch via the Productive Valley Fund email address. It was easy to start the conversation".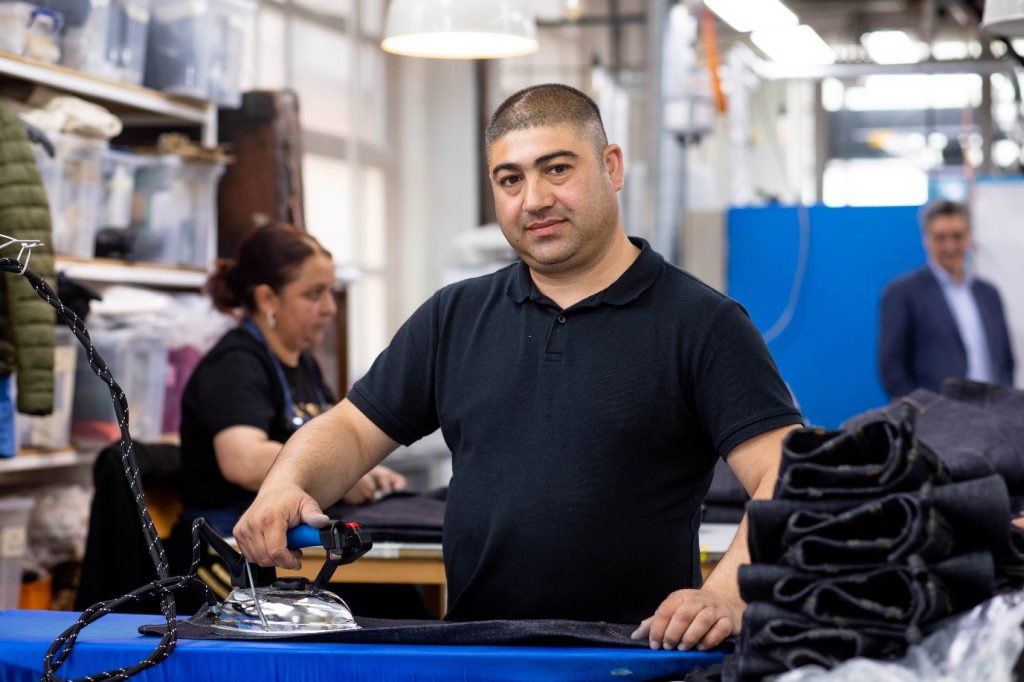 What were the benefits of the Productive Valley Fund?
Hans: "With the PVF loan of £168,000 we had total peace of mind. We were able to expand our whole lab infrastructure system from washing, producing and drying garments. We now have a fully integrated factory, which is the first in the UK for producers like us, as garment luxury producers tend to be in Italy, across Europe and Japan. We now save on costs, time, and transport (as we no longer have to ship our denim to Italy to be washed), but most importantly we are able to drive the aesthetic creatively and research development of jean production in the UK".
Ingrid: "We were focussed on the operation of our business, but PVF gave us an opportunity to understand our own finances. Support was provided by the PVF administration in understanding Profit and Loss Account, Balance Sheets, and various financial terminology. It was a good learning experience. Once we understood the basics, we realised we had to recruit a consultant to help us with cash flow and forecasting etc. We have a much better understanding of our finances now.
PVF is an excellent learning experience in more than one way, as there is a layer of benefits. We were also able to purchase the Laser and Washing Machines (one of its kind in Europe) and as a result, we have attracted a lot of interest amongst students from the London College of Fashion and University Arts London for research / workshops and other manufacturers. Furthermore, we also had lots of interest from several wholesale businesses who are in the process of placing orders for denim from Atelier".
What was the process like working with the Productive Valley Fund & Council representatives?
Ingrid: "The support team were in hand offering constant help via phone calls and emails when required throughout the whole process. We were consulted and kept informed about the various stages prior to the approval of the loan. We were assured that the loan application was moving in the right direction and the assurance gave us the opportunity to place orders for the machinery prior to the approval of the loan. Prices were on the increase, so we went ahead!
The team offered help at every stage of the application process with the business plan and financial documents. They were eager to help and prompt with their responses.
Based on our experiences we would gladly encourage other businesses to apply for the Productive Valley Fund loan because of the help we received. In fact, we have even been encouraging businesses we deal with or know that would benefit from PVF loan to apply directly".
What did you use the loan money for?
Ingrid: "Most significantly for this project, we were able to make the down payment on the machinery to ensure we would receive the equipment in time for our launch. The delivery date ended up being postponed several times (from September 2021 to April 2022!), and it was crucial to have a repayment holiday to absorb this significant delay. We also used the loan to finance the building work we had to do to house the machines, which included electrics, drainage, moving partitions and ventilation".
Did the loan money contribute to any social outcomes?
Hans: "The business will be creating 16 full time jobs including apprenticeships, internship, and hosting researchers. We receive regular visits and hold workshops for students from Chelsea College London and will continue to focus on recruiting local staff. After launching the latest machinery, we are allocating a set number of days per month for students and researchers from University Arts London to access the machinery lab. Through this, we can facilitate knowledge creation around sustainable, circular fashion practices and prepare students for jobs of the future".
A loan fund that will help your business grow
The Productive Valley Fund (PVF) is a new £2.7 million flexible loan fund to support industry-led growth and celebrate local production and enterprise in the Upper Lee Valley. The fund is open to small to medium-sized industrial estate-based businesses in the Upper Lee Valley – Enfield, Haringey and Waltham Forest – and those looking to relocate there.
If you have plans to expand, are an exemplar of modern production, and are committed to providing good quality local jobs, then this could be the loan fund for you.
Find out more: Productive Valley Fund